My Life Between Two Cultures
(Dedicated to My Children)
"The End of a Community: Ashkenazi Jews in Derbent"
My memories of Derbent take me in two directions: to the striking physical textures of the city and to the people and communities I grew up with. The landscape was the constant - and a backdrop to the change of population and the emotional upheavals of daily life.
This diverse city with its wonderful architectural monuments, that despite many challenges remain intact to the present day. Once a person has seen Derbent, he or she cannot remain indifferent to it. Situated on the shore of the Caspian Sea, this fairy-tale city is beautiful, not only with respect to its grandeur and power but also with respect to its people. The fate of many nations of South-Eastern Europe, the Caucasus and the Near East were closely associated with Derbent.

Many communities living in Derbent have contributed to the life and culture of the city. Some of these communities either no longer exist, or their numbers have dwindled sharply. One of these communities is the Ashkenazi Jews (Jews of Europe), who began to settle in Derbent in 1860, when they gained the right to live outside the pale. In 1900, one of four synagogues in Derbent was Ashkenazi. After the February Revolution of 1917, many of them were enthusiastically involved in the construction of a new life in the post-revolutionary Derbent. Well known individuals from Derbent include Aron Yul'evich Ehrlich and Jacob L'vovich Marcus who died for the idea of revolution. Later, after the Second World War, some Ashkenazi Jews held honorary positions in Derbent. It was a kind of renaissance time for the Ashkenazi Jews of Derbent.

I grew up in Derbent a product of two Jewish cultures, Ashkenazi and Sephardic which to some extent reflects the time that I lived there. After World War II, some refugees from other republics of the Soviet Union and Poland moved to live in Derbent. Among them was a refugee from Poland, my father, who in 1939 fled from the Nazi plague to the Soviet Union. In 1953, fate brought him to Derbent, where he married to my mother. My father was a of European Jewish (Ashkenazi); mother was of Mountain Jewish (Sephardic) descent. It is a curious intermingling of two different cultures, that are branches of one religion. My father was a fluent speaker of Russian, Polish, Yiddish and German; my mother spoke Russian, Tat, Lezgian and Azerbaijani. I have always admired their knowledge of many languages.

My father, Joseph (Moishe) Tsvaygenbaum never held any high position in our city; he, as well as my mother, Mirvari, spent many years working in the Derbent cannery. My father, due to his erudition and religious education served as a spiritual bridge between the European and Mountain Jews. He was respected by people from all walks of life in both communities. Young people and old turned to him for advice. The Mountain Jews repeatedly asked him to become their rabbi, but he would always turn them down. My father would have had no problem accepting the role had it only been as spiritual leader, but the Rabbi in Derbent also served as the shochet (butcher) and my father was too squeamish to perform that task.

Most of Ashkenazi Jews living in Derbent after World War II were the refugees who had lost loved ones in the concentration camps. Uprooted by the war, they saw my father and his religious knowledge as a link to their past. The spiritual leadership he brought them gave them a sense of connection to who they were and who they had been. This was especially true on Yom Kippur ("The Day of Atonement") when my father led a prayer service for the Ashkenazi Jews in a small room of the Derbent synagogue. On this day it is traditional to read the Yizkor - a memorial prayer for loved ones who have died. When my father read it, both he and the rest of the community would sob, remembering all who were murdered in cities, ghettos and concentration camps during the war. His role on the Day of Atonement was invaluable to the community.

I often wondered why Ashkenazi Jews on Yom Kippur never prayed alongside the Mountain Jews during the Yizkor prayer. They always asked my father to read the prayer in a separate room. Later as an adult, I realized that Ashkenazi Jews - including my father-- wanted to pray and cry in the languages that were spoken by their mothers and fathers. Reading with my father in their familiar dialect of Ashkenazi Hebrew rather than the Sephardic Hebrew that the Mountain Jews used was for them a kind of prayerful meditation and nostalgia. And, they wanted to comfort each other in Yiddish - the language they grew up with.

This language difference is one reason for the existence of two communities, despite their shared religion. In Derbent Ashkenazi Jews lived sometimes in a common housing courtyard with Mountain Jews, but the differences of language and culture created some conflict and misunderstandings. "My father was the last Ashkenazi in Derbent who regularly went to synagogue - not only on the High Holidays - and who subscribed to "Sovetish Geimland" (Soviet Homeland), a Soviet Jewish magazine written in Yiddish. It often happened that he read and simultaneously translated articles from the Moscow-based magazine, explained and debated them in the discussions with the people of his own community.

My father's death in 1987 marked the end of such discussions and religious leadership for the Ashkenazi in Derbent. At his funeral one woman said to me: - "With the departure of your father, we feel that we Ashkenazi in Derbent are now orphaned." And, with the exception of a few families, Ashkenazi Jews began to leave. After 140 years, Derbent lost this small but very vibrant community, which had left its mark on the development and culture of the city.
"Neighbors"
I lived in Derbent outside the northern ramparts Dash-Gapi (or Shurinskie). My neighbors were mostly Mountain Jews. I grew up with them and play. My friends on the street were Munosh, Sasha, Yahshua, Haim and Issai. In elementary school, despite my father helping me to do my homework every night, I didn't like study, and my thoughts were always about the games I played outside with friends. Before school started most of the time, we played cards, football, hockey or tag. Sometimes the neighbor girls Hivit, Raya, Sarah and Zina played hopscotch or jump rope. Most of all I loved the summer when we spent whole days on the beach. We forgot about lunch and about everything else in our lives. The Caspian Sea has been our happy fun. We spent hours swimming, diving, and then resurfacing to tag each other. We were happy. My parents did not like my unstructured summer life, so they signed me up for summer camp that I did not like. For five years, from the 3rd to 7th grade, I went to summer camp. I must admit that the camps saved me from many outdoor adventures and developed in me an interest to many hobbies. Mostly I liked the photography lessons and aviation. During third and fourth grade, I lost my neighborhood friends. Their families left Derbent in search for a better life. It was sad to leave them.

From 1970-85, there was a mass emigration of Derbent Jews to Israel. We then acquired new Azerbaijani neighbors. One of our neighbors was the Jafarov family; Uncle Mirza and Aunt Niyaz and their five sons, Salam, Mahmoud, Daglar, Edik and Telman. We became friendly with them. The Jafarov's family did not have a home phone, which was the norm in the 1980-90s. We would get all their calls. Despite the time of day and weather, we always called to them over the fence to the phone. In rain or snow, we sometimes had to shout in order for them to hear us. When I was not at home, this job often falls to the share of my parents. When they celebrated the weddings for their sons Edik and Telman, my parents allowed them to take down the fence between our backyards. Without the fence there was a large area, which permitted more wedding guests to enjoy the festivities. After the weddings, the fence was never rebuilt. We were so friendly with them so that our parents did not see any need for this.

Because of our warm and friendly relations, we did not object to show our attention to them. All the joy and sorrow we shared together. They sat with us during the Seder at the Jewish Passover and we are with them celebrated their religious holidays. Primarily, my mother, grandmother and I were the ones to visit. Most of all I was friendly with their son, Mahmoud; he went with me to art school. During the holidays, my mother Mirvari and Aunt Niyaz exchanged holiday dishes. Sometimes they shared food at other times, too. I was the youngest in our household, so the task of distributing my mom's treats to neighbors was my duty. It was not strange that I loved to do it. I always loved to hear the gratitude and praise for my mother's delicious baked goods. Despite my modest contribution as the delivery person, I felt I was involved in the act. Maybe I also liked the fact that I was the first to try the neighbor's food that they gave us in return. I especially loved Aunt Niyazov's treats for the spring festival, Novruz-Bairam, or other holidays like Eid al-Adha and Eid al-Fitr. She baked and cooked very tasty items. I especially loved her risotto, baklava, shekerbura and shore-gogh. I would eat them with pleasure again.

Although I equally loved Easter treats from our Russian neighbors, Uncle Nicholas and Aunt Tanya. They lived two houses up the street from us on the opposite side of the street. I particularly remember of Aunt Tanya's delicious baked and painted Easter eggs with very beautiful patterns on them. She painted them the color of onion husks. Uncle Nikolai who always delivered gifts, Aunt Tanya rarely visited any neighbors and usually did not communicate with anybody. She did not like the noise under their windows. Aunt Tanya scolded us neighborhood kids when we played near her home. For this reason, some children did not like her, but all were very fond of her Easter treats.

Below our house, next door to us, lived a Dargin family, Ramadanov. The owner of the house was called Rajab, the neighborhood kids never called him "Uncle Rajab." We all called him simply just Rajab. Because of Rajab's severe features, the neighborhood kids were always afraid of him. Before I was born, Rajab was married to a Russian woman and they had a daughter. Once the neighbors noticed that Rajab's wife had not been seen for a long time. The neighbors began to ask his daughter where her mother was, but she was afraid and did not say anything. Words about the disappearance of his Rajab's wife, reached the police station. They questioned Rajab, but he told them that he did not know where she was. The police began to question his daughter; the frightened girl was silent, but then without a word pointed toward the backyard. The police started digging up the garden, soon they dug up a tightly closed barrel. Upon opening the barrel, everyone was horrified to see chopped parts of a human body. Rajab was jailed, and the girl he was sent to an orphanage. I personally never even met her.

After prison Rajab brought a new wife from his village - Aunt Fatma, with her young son Shamil from her first marriage. His wife, Aunt Fatma was a round-faced highlander, who had a limp on her right side. Puny knew the Russian language; she spoke it with a strong accent. She always wore the traditional national dress, with a colorful shawl on her head. Shamil, was their only child. They never had children together. Shamil struggled with school, he had a comprehension problem with all subjects, and probably had a developmental disability. This is also reflected in his physical development. He was harmless. The neighborhood kids treated him kindly. At the request of his mother, my father helped Shamil with his algebra homework, both explaining it and doing exercises with him. Shamil remained in the same class for several years, barely finishing school. But eventually, he did graduated from the Derbent Agricultural College, served the army and not long after married a girl from his village. Shamil never had any children.

After several years of marriage to Aunt Fatma, Rajab became paralyzed in both legs. He moved by pushing himself forward using small wooden sticks, which he always kept in his hands. Before his illness, Rajab was a strong, a large boned man. Soon after he became paralyzed, Aunt Fatma, forced Rajab to live in a small, dirty and smelly chicken coop. She often hung raw meat, wrapped in gauze to dry In front of it. The meat attracted swarms of flies. He lived there on a clay floor, along with chickens and turkeys. Sometimes Aunt Fatma placed goats and lamb in there as well.

Rajab was always dressed in torn rags, with large holes on them. Because he never bathed nor changed his clothes, the rank odor of his body could be detected even at a distance. His body was covered in flies, bugs and other insects, sometimes mice crawled over him. Basically his food ate mice or rats. He rarely would send them away; they hurt him less than Aunt Fatma. When Aunt Fatma lost patience with him, she poured a meal filled with flies over his head or threw a chair at him or anything something heavy and at the same time cursed him in Dargin. Then he cried in pain even more. If Aunt Fatma was not at home, then Shamil engaged Rajab. Shamil dealt with him without further ado. Often he shouted so loudly at Rajab in Dargin that all the neighbors heard it. Once I asked Shamil why he yelled at Rajab, to which he replied that Rajab asked him for food, but his mother told him do not give him anything. Against all odds, Rajab was able to live in these inhuman conditions for about 16 years. One day, Shamil found him dead in the henhouse. Rajab was buried according to custom in the village. I always thought that he in the hell would be a pleasant place for him compared to the life he lived with Aunt Fatma.

Since Rajab's death Aunt Fatma yelled mostly at Shamil or at us neighborhood kids, if we were playing on a hill near her fence. She threw stones or a club at us along with her curses. We children were as afraid of her as we were of fire. Some neighbors used her name to threaten their children if they did not listen to them or didn't go to sleep. Adults often said to their children: - "Quickly close your eyes; otherwise I will call Fatma, to give you to her." This had a strong impression on all the children on our streets.

Fatma survived her husband Rajab for many years. She was buried in the graveyard in Derbent, in the "Kirhlyar" cemetery. In 2009, many years later, I returned from America to Derbent for 5 days. Taking a walk down the street where I grew up, I saw that the house of Aunt Fatma had been demolished. The new owners built a new home. I asked my old neighbors about Shamil. I wanted to know how his life was, since I left Derbent. Neighbors told me that Shamil's wife put in the house her relatives from the village, so they with the mediation of his wife insisted that he rewrote the house in her name. Shamil did not agree to this, so his wife, along with her relatives started to beat him up and mock him. They kept him in the same dirty and smelly chicken coop that had once held Rajab. Neighbors could heard Shamil calling for help, but none dared to intervene in this matter. Soon the voice of Shamil was no longer heard. The neighbors still do not know what happened to Shamil. Out of fear, none of the neighbors dare asked his wife about Shamil. The wife of Shamil's wife shortly after sold the house and disappeared forever from Derbent.

Between 1990 and 2000, in a sense, Russia was a time when the Wild West. Crimes bloomed. The disappearance of Shamil wasn't a surprise for that time.

On the eve of "Yom Kippur", my father held for us in a family of Jewish ritual, "Kapparot." My father recited the prayer as he swung a live chicken twisted over our heads three times so that our sins would by symbolically passed to the bird. Above himself, my brother and me, he swung a rooster and over my mother and grandmother, a hen. When my father swung the bird above our heads they usually squawked loudly, especially the roosters. I was always afraid that they would peck me, but fortunately it never happened - my father kept them enough far away frm my head. Sometimes our Mountain Jewish neighbor asked my father to perform the Kapparot over them too. They would bring my father live chickens and money that he symbolically handed them for their sins. Neighbors who didn't have chicken in exchange brought eggs. For their children and husbands, neighbors asked my father to perform the ritual over their clothes.

Whenever the Jewish ritual Kapparot comes to mind, my thoughts always return to my father, to all the spiritual elements that I inherited from him. Later, as a grown man, in tribute to the ritual I started to paint "Kapparot." Unfortunately the picture so far is unfinished. My youngest daughter Esther and my friend Les with his rooster posed for this picture, but every time I was not satisfied with the process of the development of work. I hope one day to complete this picture.

After the completion of the ritual, Kapparot, my older brother Yedidya and I carried the chicken to the synagogue, to a butcher. When I was young, I usually went with my brother, but when he went to Makhachkala to continue study, going to the butcher was just my responsibility. I was 8 years old when I first time independently carried cocks to the butcher. From my house to the Derbent Synagogue on the street Tagi-Zade, 99 was about a 25-30 minute walk. When I came to the synagogue, the butcher took the roosters out of my hands. After reading the prayer in Hebrew, he killed them with a sharp knife to make them kosher. After a few minutes as the blood flowed from my chickens, the butcher took them from hooks over a large sink and put them back in my bag. The butcher spoke with me a few minutes about my parents, then quickly said goodbye to me and went to serve other people. Now I walked home with the kosher chickens. Impressions of my memories of this episode later prompted me to paint a painting "The Shochet with Rooster" in 1997.
Soon after I came back home from the synagogue, my grandmother, Bolbike, asked me to take one of the slaughtered roosters to a poor neighbor. Her name was Shegeri. My grandmother told me to give the donation to her personally. She lived in the house of her brother, two streets behind ours, along the ramparts. It was a Mountain-Jewish family. When I came to this house, I began to knock on the cherry-colored wooden gate, but no one opened it. Suddenly I heard a woman's voice in the Mountain-Jewish language: - "Open the gate."

After a hard push I opened gate, I saw for the first time my neighbor, Shegeri. She was paralyzed in both legs. When I went into the yard, she fingered the wool on the floor. Shegeri was a grown woman, about 60 years old. It was hard not to notice her kind and beautiful eyes .Her face showed few of the deep wrinkles of old age. She lived in a courtyard in an adobe hut, built right next to the gate, just in front of the (communal) toilet. Her hut, approximately four by six feet long, reminded me of a dog house. Its clay floor was damp. She had neither doors nor windows. An old, hole-filled piece of baggy canvas served as the door. For lighting, she used a kerosene lamp. She cooked on a kerosene stove. Like most Caucasian women of the time, she wore a kerchief on her head. Hers was black, threadbare and discolored from years of wear. She sat on a small pillow, with piles of old junk scattered around her. They were mostly old rags, which she huddled under on cold days. Despite the conditions in which she lived, I never saw her express anger at her life.

I handed her the gift from my grandmother, a slaughtered rooster for Yom Kippur. Shegeri was very polite and grateful for it. In leaving, I said goodbye to her and closed the gate behind me. Suddenly, I burst into tears. My neighbor, noticed me crying and asked me why, I did not say anything to her and ran away to home as fast as I could, still crying. My mother was in shock and bewildered by my weeping. I told her about Shegeri's living conditions, about her miserable existence in an adobe hut that had been built for her right next the gate. My mother embraced me and wiped the tears on my face, apologized that grandmother had sent me to Shegeri and I painfully endured poverty that I saw. For me, then 8-years old, the Shegeri's living conditions revealed a reality I never knew existed. This was the first time I witnessed such human misery. Seeing Shegeri was a life lesson for me, it gave me a perpetual fear of poverty. This feeling has never left me.

Later, at the request of my grandmother or my mother, I went many times to Shegeri. I loved to bring her treats. When I came to her, I always felt the importance of helping the poor. I always left her with good feelings. Although still a child, I understood, that helping someone in need brings no less joy and satisfaction than receiving help from other people. The more we give, the more we receive.

Shegeri's brother had five children, but only the youngest niece, Bojis, was very close to her. No one else paid attention to her For the rest of the family, Shegeri just did not exist.

When Shegeri died my grandmother bathed her body according to Jewish tradition. My grandmother often washed the dead; she did this for many in the community. She believed that it was particularly noble to wash the body of the tormented life of the neighbor. It was hard to realize that I never would see again Shegeri, this lovely woman who was so generous with the blessings.

The life of my neighbors was a reflection of the times in which they lived, and partly it was the reality of life in the Soviet Union. State aid to the poor was so small that the needy person could scarcely live on in. In the presence of a good system of state support, neighbor Shegeri never would have lived in a small adobe hut like a doghouse, and my neighbor, Rajab, never would have lived with chickens and turkeys. Alas.

In July 1994, leaving Derbent I reflected on the life that I had lived in this city, about neighbors and thought painfully about the grave of my father that I was leaving behind. This pain continues to live with me. Leaving Derbent with sadness, I was worried about the unknown future of my life. There was a future with many tests for me and my family.

Every day, overcoming the challenges of a new life in the United States, I periodically looked back on the life of my childhood. I have been able to put these reflections into some of my paintings, such as "Flight of the Soul", "Rose", "The Golden Jar", "People of Derbent" and "City" My pictures help me to reconcile myself with the past and build bridges to the future. The language of art is my way to communicate with people, it allows me to tell everything about what I think and dream in my dreams.
The Shochet with Rooster
Flight of the Soul
Roses

The Golden Jar
People of Derbent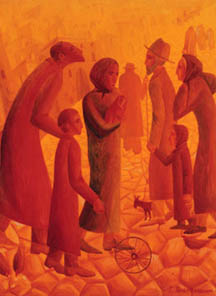 City
[HOME]
[BUSINESS PAGE]
[GALLERY]
[BIO]
[KEYWORDS]
[RECOMMENDED ART]
---
My E-Mail address is:israel@IsraelArtGod.com

© 1998 - 2020 Israel Tsvaygenbaum. All rights reserved.